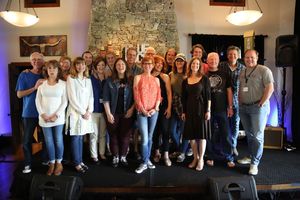 SONGWRITER RETREAT 
RECAP
We had a blast with Beth Nielsen Chapman earlier this month as she led a group of songwriters through a workshop centered around the "Magic of Creative Flow." We all made so many excellent friends, memories, and of course, songs! Stay tuned for the next workshop.
OCCUPY BLUE ROCK
Occupy Blue Rock is a 7-day Songwriting Residency in the Texas Hill Country.  
Designed and offered by the Blue Rock Foundation to offer deeper engagement and assistance for artist professionals. 
7 days of focussed writing. Plan to finish songs, develop your show, or begin something fresh. 
Privacy, quiet, 27 acres of hill country trails. 
Dinners together in the big gourmet kitchen. 
Listen and share fresh ideas each evening. 
Lodging and meals provided. 
Expense grant underwritten by BR Foundation board member Dalis Allen. 
Studio session to capture fresh energy & ideas. 
Artists perform a Blue Rock songs-in-the-round concert on the final night.
The following Occupy Residencies are planned for 2024. Performing Artist/Songwriters apply now. 
Info & Application
      • January —14—20, 2024 (filled)
      • April 14—20. 2024
      • July 14—20, 2024
      • September 29—October 5, 2024
A first run of the OCCUPY residency concept was held in July of 2022, with artists Phoebe Hunt, Linford Detweiler, Rj Cowdery, and Billy Crockett.  It was a rewarding and productive week for each.  More reflection and images on the EVENTS page.